AIS Pete Korpela Shaker Pandeiro
COOPERMAN AIS PETE KORPELA SHAKER PANDEIRO
$215.00(includes tuning wrench, NO BAG),
$257.00(includes wrench and discounted bag)
shipping $16.00 within continental USA
Cooperman's unique variation on the Brazilian style tambourine – our Shaker Pandeiro – adds a dry, ganza-like sound to the mix.  Using our easy, interchangeable jingle system, players can opt to exchange or combine the more traditional brass platinellas with shakers.  An excitingly new embellishment is added as the drum is flipped or rotated through horizontal and vertical plains.
The shaker consists of a half-dome of a pandeiro style jingle fitted with a covering of REMO® Fiberskyn; a balanced load of metal shot creates the ganza-like shake effect.
Our Shaker Pandeiro uses the same tambourine structure as our standard model Pandeiro which is based on the traditional Brazilian style drum, played gymnastically with the finger pads and hand heel. Our turned shell is 10" diameter, 1 7/8″ high, with precision cut bearing edge. We've added a decorative inlay to give the drum a jazzy look.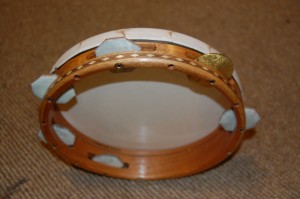 A soft natural skin head gives emphasis to the instrument's percussive sound.  Our patented internal tuning technology gives the skin head a range of possibilities while allowing the player to maintain a complete range of motion, unencumbered by external hardware. Tension on the head is adjusted by the action of an internal, lightweight, moveable bearing member. A T-grip Allen wrench and tuning instructions are included. We secure the head into an exterior grove which is then covered with a colored knit, cord, a design that minimizes the tendency of the head to pull away from the shell.
If you prefer a synthetic head, choose a REMO® cloth/mylar head to imitate the lower pitch range of the specially processed goatskin, or a REMO® Renaissance for a more modern, full pitch range.
The Shaker Pandeiro comes with shakers  installed in all six of the tambourine's slots.  Additional brass platinella style jingles may be purchased separately.
more pandeiro video demonstrations