Glen Velez Mediterrasian Tambourines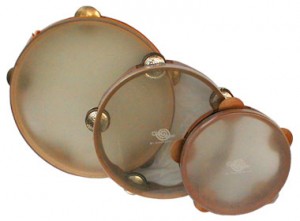 Glen Velez designed this series of drums to explore a new context for some traditional instruments. The three drums clearly borrow their design heritage from the South India kanjira, the Italian tamburello and the Spanish panderoa, but they are not intended to be traditional versions of those instruments. The jingle pattern and design features have been adapted to facilitate Glen's innovative, cross-influenced style of playing. In accompanying booklet, Glen demonstrates the application of his Mediterrasian style using hand movements drawn from traditional sources, but with the rhythmic ideas used, combined and shaped into a broadened context.
Lathe-turned hardwood shells; precision turned bearing edge.
Our internal tuning system preserves traditional appearance while allowing the player a complete range of motion unencumbered by external hardwar. A T-grip Allen wrench is included.
The shells are scalloped between the jingle sets to reduce the weight and improve grip comfort and increase accessibility to the playing surface.
Our removable jingle-pin technology allows alternative combinations of jingles
A selection of alternate jingles is included with each drum.
Small: 8″ diameter, 2″ high, REMO Renaisance, single row of 5 clear poly-acrylic jingle sets:

$325.00 

Medium: 11″ diameter, 2 5/8″ high REMO Renaisance, double row of 5 nickle silver jingle sets.  
$343.00    

Large: 13″ diameter, 2 5/8″ high, REMO Renaissance, single row of 5 pandeiro jingle sets. 
$370.00