Rope Tension Drums – Special Offers
Rope Tension Drums – Special Offers
From time to time our drum builders are inspired to build a showroom sample, or to prototype a drum
with a special material or finish or construction detail.  Used drums, refurbished drums, and shop seconds
may also be available, as well as new drums that are in the process of being made and so will be ready faster
than a new custom order.   Please call us (802 463 9750) or email us ( jellis@cooperman.com) if you are interested
in one of these drums. Or follow this link to see a selection of drums at our web store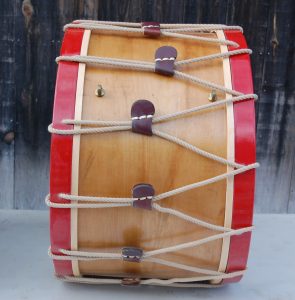 RECONDITIONED SHELL 17 X 28 DIA

This is a vintage 17 x 28 solid maple shell.
A picture added here shows a repaired crack by the tack design.
We added used ears, used carry hooks, 5/16 buff poly rope.
No heads at this time (flesh hoops shown in picture).
With Remo Fiberskyn heads, $600 plus shipping
With calfskin heads, $915 plus shipping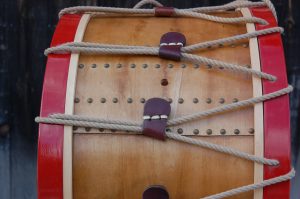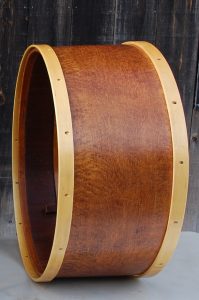 VINTAGE BASS IS PRICED AS AN ASSEMBLED DRUM
12 X 30 dia. vintage laminated birds-eye maple bass, with Kershaw label.
We have added a small patch on the overlap shown below; also note the
age hairline cracks in the outer ply. There is a single ring middle carry.
To be assembled, with new hoops, new rope, new Fiberskyn heads, new ears.
$890 plus shipping
If assembled with calfskins, $1240 plus shipping.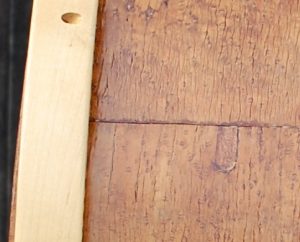 On our web store