Rope Tension Drums – Special Offers
Rope Tension Drums – Special Offers
From time to time our drum builders are inspired to build a showroom sample, or to prototype a drum
with a special material or finish or construction detail.  Used drums, refurbished drums, and shop seconds
may also be available, as well as new drums that are in the process of being made and so will be ready faster
than a new custom order.   Please call us (802 463 9750) or email us ( jellis@cooperman.com) if you are interested
in one of these drums.Or follow this link to see a selection of drums at our web store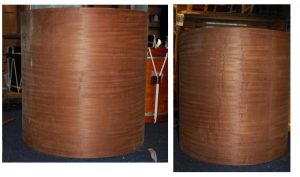 5 ply Jasper cherry veneer bass shells,
clearing from inventory.
Before we made our own signature one ply shells, Cooperman drums
were made with the famous Jasper drum shells (no longer in
business), in ash, maple, cherry, and rosewood.
We have discovered 4 shells in inventory:
3 barrel bass size 24 x 24, 1 cut to 20 x 24.  No reinforcement rings,
but these could be added for additional cost; also, we can quote on
cutting the shells down to your preferred size.  Most or all of these
shells have some water marking – photos can be made available – this is a representative shell.
$75 per shell plus s/h
link to online store Parts & Accessories Outlet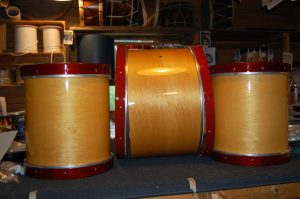 This small group of new Liberty drums is nearly complete – each available separately even though photographed together.
Liberty Snare Drums #3567 and 3568
SOLD
Liberty bass drum #900
6 ply laminated maple shell, 14″ x 24″ dia, clear coat finish
Hoops painted red enamel
2 Liberty carry hooks
Bass drum $1025 plus shipping/handling
link to online store Drum Specials & Outlet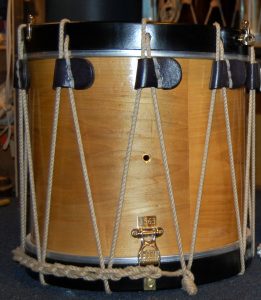 Liberty Snare Drum #3563
Solid one ply maple shell, 16″ dia x 14″
Shell with clear coat finish
Hoops painted black enamel
Liberty ears in black leather, buff poly rope rope
Liberty carry hook
Liberty strainer with natural gut snares
Custom Remo heads: Fiberskyn batter, EMP snare
3 legs on batter hoop
$1320 plus shipping/handling
link to online store Drum Specials & Outlet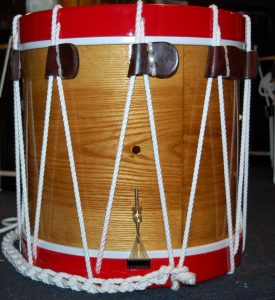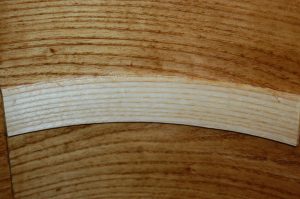 Liberty Snare Drum with Rev War modifications #3604
SHOP SECOND
Solid one ply ash shell, 16″ dia x 14″  – hairline crack in shell repaired
Shell "golden oak" stain
Hoops painted red
Brown ears
Simple J hook strainer with natural snare gut
Rope carry
1/4" spun dacron rope
Custom Remo heads: Fiberskyn batter, EMP snare, rims sprayed white
Regular $995
SECOND PRICE $850 plus shipping/handling
link to online store Drum Specials & Outlet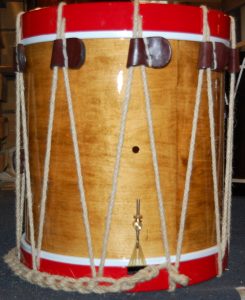 Liberty Snare Drum with Rev War modifications #3602
Solid one ply maple shell, 16″ dia x 16″
Shell "Puritan Pine" stain
Hoops painted red
Brown ears
Simple J hook strainer with natural snare gut
Rope carry
natural hemp rope
Custom Remo heads: Fiberskyn batter, EMP snare, rims sprayed white
$995 plus shipping/handling
link to online store Drum Specials & Outlet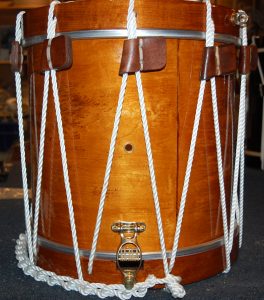 Liberty Snare Drum  #3601
SHOP SECOND—has a stabilized flaw in the shell
Solid one ply maple shell, 15″ dia x 14″
Shell "mustard" stain
Hoops stained to match shell
Simple square leather ears, stained brown
Liberty strainer with natural snare gut (5 strands 13 ga standard gut)
Liberty carry
1/4" fil dacron rope
Custom Remo heads: Renaissance batter, EMP snare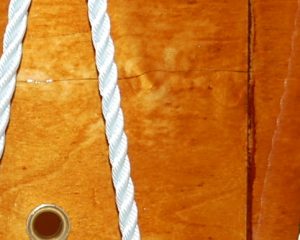 Regular $1225
SECOND PRICE   $ 1000 plus shipping/handling
link to online store Drum Specials & Outlet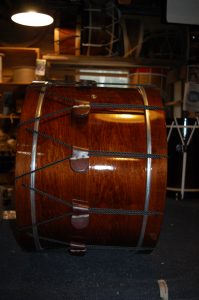 Liberty bass drum #901
6 ply laminated maple shell, 14″ x 24″ dia
Shell stain "medium dark walnut"
Hoops stained same
2 Liberty carry hooks
black fil. dacron rope
Bass drum $1025 plus shipping/handling
link to online store Drum Specials & Outlet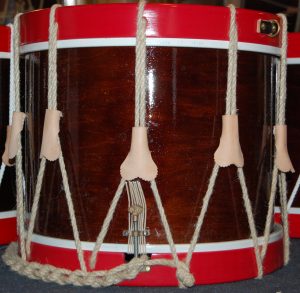 Liberty Snare Drum, Civil War Style, #3552
6 ply laminated maple shell, 16″ dia x 12″ deep
Shell stain "medium dark walnut"
Hoops painted red; Civil War style tab ears, natural
Civil War style snare strainer with natural gut snares
D ring carry with leather fittings
Cooperman custom Remo heads: Fiberskyn 3 batter, EMP snare
1/4″ hemp rope
$925 plus shipping/handling
link to online store Drum Specials & Outlet
New Li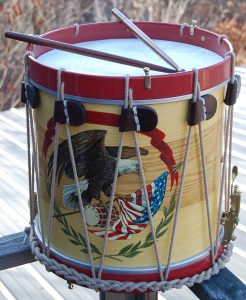 berty Model Snare Drum #3459
Solid one ply ash shell, 17″ dia x 16″ deep
Hoops painted red
Brown ears
New Dual Strainer with adjustable anchor; natural snare gut
1/4″ buff poly rope
Calfskin batter, Remo EMP custom snare heads
3 legs on each hoop
Hand painted "Liberty Eagle" artwork
$2530 plus shipping/handling
DEMO discount $2430 plus shipping/handling
link to online store Drum Specials & Outlet
Email for printed catalogs and price lists