Frame Drum Bags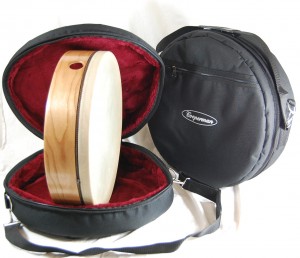 Cooperman's logo'd drum bags are custom designed with frame drum players in mind. Our bags feature a durable "600" black fabric with a waterproof pvc backing latminated to a thick foam layer. The interior is finished with an elegant "velvet" styled burgundy liner for the softest finish available, giving four layers of protecion.  We've had the bags fitted with an exterior zippered pocket, a removable shoulder strap, and metal hardware.



12" Tambourine                     $64.00
14" dia. x 4.5"                        $72.00
16" dia. x 4.5"                        $75.00
18" dia. x 4.5"                        $80.00
20" dia. x 4.75"                      $90
22" dia. x 4.5"                        $95.00
We also offer a 16″ Humes & Berg "Drumseeker" bag that offers an excellent alternative to our logo'd bag. The Drumseeker line is made with a durable nylon outer shell and includes a padded but rigid top and bottom combined and with a high pile shearing lining.  This bag does not have an outside pocket.  This bag hold up to a 16″ diameter x 4″ deep drum.
$55.00