Cooperman banjo rims start in the Vermont woods, where we select native hardwood trees to mill, using methods passed down through generations of sawyers, benders, and wood turners. The rims we build today proudly represent our 90+ years involvement in the banjo rim building trade – a longtime commitment to traditional workmanship enhanced by innovative design.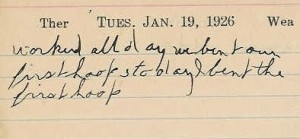 As recorded in Herman Cowing's diary (left), the first rims were bent here in January of 1926. The rims we offer today, with their proud percussive sound, hearken back the features of the original 1920's designs. We still use only hand-selected superior native woods, especially Vermont Maple and Cherry, sourced within 30 miles of our workshop. Milled in-house and steam bent employing traditional skills, our rims are offered unfinished, built "heavy"- ready for you to lathe-turn to your finished specs. You may choose hide glue or modern wood glue. We stock a limited number of "standard" rims sizes, and we can build rims customized to your specs or with a variety of alternate woods (Cherry, Oak, Ash, Walnut, Curly Maple).
email us ( info@cooperman.com ) or call (802 463 9750).
Typical Rims available through our online store):
| Diameter | Dimensions | Wood | Glue |
| --- | --- | --- | --- |
| Single-Ply | 11″, 12″, 13′, 14″ | Vermont Hard Maple, Vermont Soft Maple | Hide Glue or Standard Wood Glue |
| 2-Ply | 11″, 12″, 13″ | Vermont Hard Maple, Vermont Soft Maple | Hide Glue or Standard Wood Glue |
| 3-Ply | 11″, 12″ | Vermont Hard Maple, Vermont Soft Maple | Hide Glue or Standard Wood Glue |