THE DAYEREH
Cooperman Artists Houman Pourmehdi and Rowan Storm have brought unique design approaches to our line of Persian inspired drums.
Cooperman Houman Pourmehdi Dayereh:
Our dayereh was developed with the guidance of Houman Pourmehdi, founder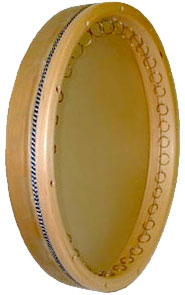 of the Society for the Advancement and Preservation of Traditional Persian Music. Inspired by the virtuoso playing and the spiritual heart of Sufi masters, this drum bridges our Azerbaijani style ghaval and larger diameter Persian daffs.
The shallow (2"), medium size (14 5/8" diameter) frame drum is distinguished by a single row of 36 light ring jingles, a sharp bearing edge, and an unusually steep bevel transitioning to a rolled interior profile. The shell is steam bent hardwood, and is fully lathe turned on the interior (for a comfortable grip) and on the outside diameter (for precise thumb anchoring). A sharp bearing edge, facilitating exacting finger snaps and rolls, is paired with an expressive, warm REMO Renaissance head.
This model is by special order only. Please contact us info@cooperman.com
World music at the Getty Center,
Composed by Mani Bolouri
Kamancheh: Mani Bolouri, Tar: Pirayeh Pourafar, Tonbak, dayerh, Ney and percussion: Houman Pourmehdi.Frame drum, Dayerh, Pandeiro and dohol : Randy Gloss.
Cooperman AIS Rowan Storm Dayereh:
Rowan Storm's travels throughout Iran have given her a deep understanding of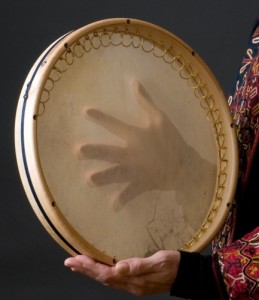 Persian Classical music, the role of women in ancient, sacred percussion traditions, as well as the evolution of Western culture based on countless elements from the East. Living in the Eastern Mediterranean region since 1993, Rowan performs internationally with some of the greatest Masters of Middle Eastern music while actively promoting cross-cultural understanding. This new drum reflects her vision and teaching approach which emphasizes ease of playing and musicality, as well as an integration of the two brain hemispheres. Learn more about Rowan Storm and her work at www.rowanstorm.com
The overall dimensions and light weight (13.75″ x 1.75″) combine for an unusually well-balanced drum, particularly accessible for entry-level beginners. More advanced players will discover that the design facilitates a broad range of expressiveness within universal musical genres.