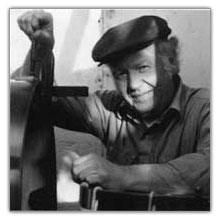 Patrick H. Cooperman
Pat Cooperman (1928-1995) started out as a drummer in his elementary school band in Mt. Vernon NY. He served in the US Navy on an aircraft carrier during World War II, and joined his hometown VFW Post 596 when he returned from the service. Post 596 had a fife and drum corps, the Colonial Greens, and Pat joined in as a rudimental snare drummer.
Pat Cooperman was also a woodworker and furniture maker by trade, and began to make his own drumsticks. Soon other corps members were asking for sticks; Pat's father-in-law was a fifer in the Post 596 corps, and he and the other fifers encouraged Pat to experiment with fifes as well.
By the late 1950's Pat was making and selling handmade drumsticks and fifes throughout the New York and Connecticut area. As the years went on, an increasing number of drumstick models and fife designs were introduced, and Pat took in more and more repair work on the rope tension drums. He had a lot of ideas about how the rope drums could be improved, but was limited by time and space; his company was still a small home-based operation, while he held down a full time position as a Fire Department Captain for the city of Mount Vernon.
In 1975 Pat began the process of retiring from his Fire Department job, and opened the full-time shop in Centerbrook, CT as Cooperman Fife & Drum Co. Inc.
All of his ideas for the rope drums were finally put into practice when the first set of his Liberty Model Drums was delivered in 1975.
Pat continued to work on new designs and improvements for his instruments until he passed away in 1995. He was also intrigued by the growing popularity of frame drums, and started the Cooperman company on its present course of being a leader and innovator in that marketplace as well as in traditional fife and rope tension field drum.
The Mill and Workshop
The earliest Cooperman workshop (in the 1950's) was the Mount Vernon NY basement of founder Patrick H. Cooperman. Drum sticks and fifes were the basis of part-time production by a workforce of 3 men.
By 1975 the operation had expanded to include a full line of rope tension drums, and a full-time staff of drum makers was employed at a new workshop in Centerbrook, Connecticut.  For more than 30 years, Centerbrook was the home base for a growing line of Cooperman instruments and products. 
In 1987, The Cooperman Company purchased and began revitalizing the old sawmill and wood bending operation of the Maplecraft Manufacturing Company of Bellows Falls Vermont. Eventually, in 2006, Cooperman operations were consolidated to the Bellows Falls mill. Cooperman craftsman had learned from Maplecraft the skills of selecting trees in the local forests for their unique tone qualities and bending characteristics, as well as the craft of sawing the logs and steam-bending the lumber.
With the addition of the drum stick turners, drum wrights and expert fife makers who had honed their skills in the lower Connecticut River Valley, the Vermont mill is now the center of Cooperman's  proud heritage trades.
The Cooperman Company Businesses
This website of The Cooperman Company focuses on our musical instruments. There is a long tradition in the United States of musical instruments companies being involved in other trades that utilize similar machinery in order to justify the expense of sophisticated equipment, and Cooperman is no exception. In addition to the musical instruments we make directly for bands and musicians worldwide, we manufacture a line of traditional toys, games, and inexpensive musical instruments for the museum gift shop trade; we supply other manufacturers in the music trade with parts for their own brand instruments; and we make a custom line of wooden boxes for the gourmet food industry.