DAVID K. SERIES tar drums
David Kuckhermann's extraordinary musical talents are showcased in his popular series of frame drum/tambourine instructional DVDs and podcasts.  He is recognized internationally as a hand drum clinician.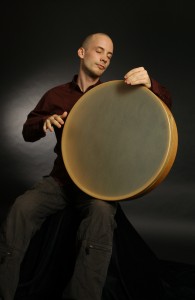 Cooperman's  David K. Series frame drums are designed to compliment David's playing and teaching style.  These larger diameter, "bass" tar drums, feature a simple, medium depth shell with (4", about 10 cm) which sits solidly on the knee for the lap style playing position. A thumbhole is provided to give players the option of playing in the upright position; it also serves as handy port for a mounting system.  The single ply, steam-bent Ash wood shell is extremely resonant; the shell's woody bass response is enhanced by eliminating any cross bars.
Larger diameter frame drums can be literally a stretch for some drummers. The 20" model is well suited for people who are smaller in stature, but who are interested in exploring a tar drum with a powerful the bass range.   The 22" model is best suited for those who want to explore the farther reaches of the bass range, and who are comfortable managing the drum's size.
David tunes the 22" usually between C and E, and the 20" between D and F.
These models are mounted with a REMO Renaissance head.

You can purchase David Kuckhermann's instructional materials on his website:
http://worldpercussion.net/instructional-dvds-frame-drums-riq-cajon/
Please explore David's website to learn more about this exceptional artist and his work: