AIS Hadjira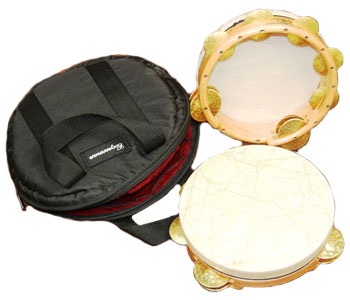 Cooperman's earliest hybrid/fusion tambourine, the Hadjira envisioned  by Jamey Haddad in the early 1990s, has changed in focus and form over the years, in the spirit of Jamey's dynamic, fluid, integrative approach to drumming.
The Hadjira was designed to combine kanjira, riq and pandeiro jingles in a unique configuration.  The shell is larger than a kanjira but smaller than a pandeiro, and deep like a riq.  A limited numbers of jingles in specifically isolated positions help emphasize the percussive drum sound of the tambourine.   A pliant head is chosen to accommodate pitch blending techniques.
The most recent incarnation follows Jamey's enthusiasm for pandeiro style playing.  6 closely spaced pairs of pandeiro jingles provide a full-bodied, but dry, jingle shake.   The shell is riq depth (2 5/8ths) excepting a hand-sized grip-area (cut out) that is made a shallower (2 1/8th), to accommodate pandeiro style playing.  On either side of the grip, we've positioned stacked pairs of articulate hand hammered riq jingles.  Our new jingle pin system allows the individual pandeiro jingles to be locked-down; with 4 of the pandeiro jingle sets locked-down, the tambourine performs like a kanjira.
REMO's special cloth/mylar head is recommended. We secure the head into an exterior groove which is then covered with a colored knit cord, a design that minimizes the tendency of the head to pull away from the shell.
A pliant, goat skin heads is available upon request.
Diameter: 9 1/8th
Depth: 2 3/8ths
$280.00 (bag not included)