AIS Marla Leigh Tar
AIS Marla 16″ Tar: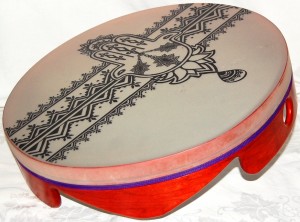 $345.00(includes the tuning wrench)

As part of our collection of Artist Innovation Series drums (AIS), several special design elements were included at the request of Marla Leigh.

The Marla Leigh Tar drum is designed to offer both introductory and advanced players a drum that is easy to handle, and to provide effortless access to a variety of playing styles. The shallow depth (3.25"), mid-size (16") diameter and Cherry wood frame is expressive while being light in weight.   Having both a unique, M-profile grip and a traditional thumbhole, enables an effortless method for adjusting a player's grip to varied playing styles (upright tar, lap and free hand for example).   The distinctive graphics and shell color reflects the spirit and energy of Marla's approach to frame drumming. The henna-like graphic design incorporates ancient symbols for peace, reminding us about the powerful history of frame drums, and how they were used for wellness and healing in cultures all over the world.

The tuning range of this 16″ drum is G to B above Middle C, where the ideal pitch would be A.
AIS Marla 14″ Tar: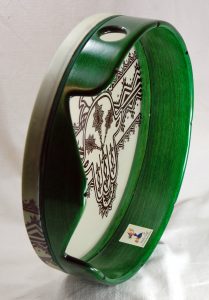 In 2018, we are offering a 14″ version of the classic Marla Leigh design drum.  In honor of Marla's visits to the Green Mountain State, we've stained the shell a jewel-tone green.
$335.00 (includes the tuning wrench)
In addition to the AIS Marla Tar, Marla Recommends:
-Cooperman model tars 12″-22″ with your choice of:     
     –REMO Renaissance drumhead: http://www.coopermanstore.com/12-22-Tars-with-Renaissance-head-20-drum-in-picture-P665.aspx
or
     –REMO Ebony Suede drumhead: http://www.coopermanstore.com/12-22-Tars-with-Ebony-Suede-head-20-drum-in-picture-P641.aspx.
To learn more about these various drumheads, see our Comparison of Head Materials page
ABOUT MARLA: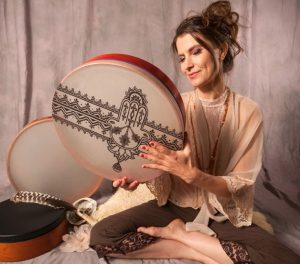 Marla Leigh Goldstein is a Grammy – nominated percussionist, flautist, composer, educator, sound alchemist and specialist in the frame drum. Marla has created her own signature series line of frame drums with Cooperman Company. She offers retreats, clinics and performances worldwide. A pioneer in online education, she is CEO of Frame Drum Academy, that currently offers two programs, Frame Drum 101 & 202.
.
Marla is passionate about the healing alchemy of sound She composes cross-cultural "meditative" music for film, tv and healing arts DVD's. Marla is currently writing new music for her debut album of medicinal world music orchestrations.
Marla holds a MFA from California Institute of the Arts, and has studied with Percussion Meastro's Glen Velez, John Bergamo, Pandit Swapan Chaudhuri, Poovlar Srinivasan and Randy Gloss.