Tars and Bendirs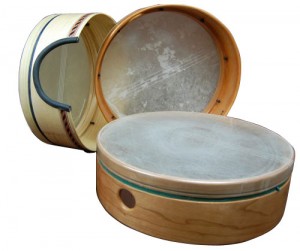 (Patent #5517890)
The edge of the head is secured into an exterior groove, which is then covered with a colored knit cord. This design minimizes the tendency of the head to pull away from the shell. These drums are available with a goatskin head or a REMO¯ ® synthetic head.
Our patented internal tuning technology preserves the traditional appearance of the instrument and allows the player to maintain a complete range of motion, unencumbered by external hardware. Tension on the head is adjusted by the action of an internal, lightweight, moveable bearing member. A T-grip Allen wrench and tuning instructions are included.
The shells are single-ply steam bent Cherry, 5/16ths inches thick x 4 1/8ths inches depth
A smoothly rolled 1 ¼" thumb hole is strategically placed so that the drum is well balanced and comfortable in your hands.
A hand rubbed, natural finish accentuates the inherent beauty of the wood.
 
12″ Tar
$322.00 includes tuning wrench 

12″ Bendir
$349.00 includes tuning wrench 

14″ Tar 
$322.00 includes tuning wrench 

14″ Bendir:
$349.00 includes tuning wrench 

16″ Tar:
$333.00 includes tuning wrench

16″ Bendir:
$351.00 includes tuning wrench

18″ Tar:
$356.00 includes tuning wrench

18″ Bendir:
$378.00 includes tuning wrench 

20″ Tar:
$378.00 includes tuning wrench 

20″ Bendir:
$ 389.00 includes tuning wrench: 

22″ Tar:
$425.00 includes tuning wrench