Special Offers – Frame Drums & Tambourines
From time to time we have drums available that are not part of our "catalog" standard models.  They may be "one-off" drums that were built as prototypes, or drums built to model a custom design suggested by a customer.  Take a look and see if something here suits you.  Email us (info@cooperman.com) about the drum if you are interested in purchasing one, or visit our webstore page of specials:
http://www.coopermanstore.com/Specials-and-One-off-C111.aspx
Polychrome Riqs:

We typically make the polychrome riqs as One-Offs – custom finished to each individual customer's turn of mind.  These three were built on spec to show off our creativity.  We are offering FREE SHIPPING (within the continental USA) as a special.
price $409.00 (includes shipping)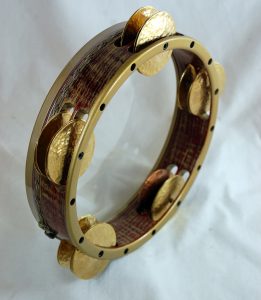 14″ Tar, Polychrome Green with Ebony Suede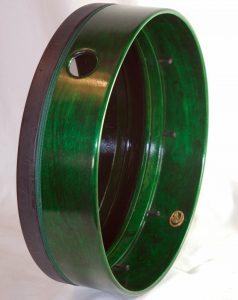 14″ Cherry shell polychromed deep green
REMO Ebony Suede Drumhead
This drum usually sells for $354.00
Special Price    $320.00
Blue Kanjira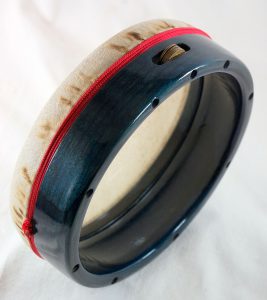 From time to time we try out new finishes.  This kanjira has the same specs our standard kanjira, but we enhanced it with a deep blue finish.
Polychrome finishes like this usually add $46.00 to the price of a standard natural finished drum. This drum would be priced at $226.00 plus shipping
Special Price: $180.00 plus shipping
18″ x 4.75″ depth Tar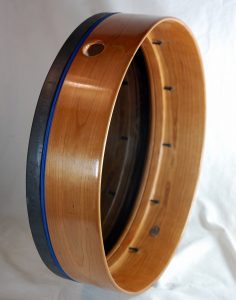 Deeper (4 3/4″) version of our standard (4 1/8″) 18″ tar drum
Cherry shell
Ebony Suede drumhead
This drum usually sells for $340.00
SPECIAL PRICE = $310.00 plus shipping
16″ Shallow Frame Tar, Polychrome finish 

SORRY THIS DRUM HAS SOLD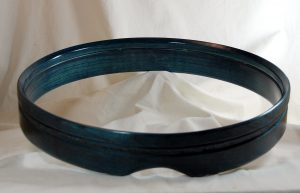 16″ diameter x 2.75″ deep tar
Cherry with deep blue polychrome stain finish
You may choose Ebony Suede or Renaissance drumhead
This drum sells for $186.00 plus shipping
Special price $165.00 plus shipping
14″ Tar Drum with polychrome finish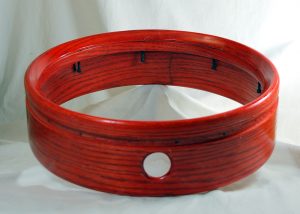 14″ x 4.125″ deep tar
OAK shell with orange/mango polychrome finish
You may choose Ebony Suede or Renaissance drumhead
This drum sells for $345.00 plus shipping
Special price $300.00 plus shipping