Special Offers – Frame Drums & Tambourines
From time to time we have drums available that are not part of our "catalog" standard models.  They may be "one-off" drums that were built as prototypes, or drums built to model a custom design suggested by a customer.  Take a look and see if something here suits you.  Email us (info@cooperman.com) about the drum if you are interested in purchasing one, or visit our webstore page of specials:
http://www.coopermanstore.com/Specials-and-One-off-C111.aspx
1) Hybrid Tambourine – Pandeiro/Riq prototype SORRY, This item SOLD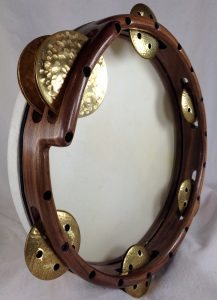 There were about 6 of these made during a redesign for the current Hadjira.
10.25″ diameter x 1.75″ deep (excepting riq jingle area = 2.75″ deep)
just under 1lb . (about 438 grams)
Walnut rim, tuneable, with American GOATSKIN drumhead
$225.00 plus shipping
SORRY, This item SOLD