Special Offers – Frame Drums & Tambourines
From time to time we are inspired by conversations we've had with artists during the course of product development, or we prototype a design inspired by the comments we hear at festivals and workshops. Sometimes a particular piece of wood just speaks to us…Perhaps one of these will speak to you too…
Email us (info@cooperman.com) about the drum if you are interested in purchasing one, or visit our webstore page of specials:
http://www.coopermanstore.com/Specials-and-Manifestations-from-the-Mill-C127.aspx
(
1) 13.5″ Diameter Jingled Drum: A "Mill Manifestation"
Here we're thinking: frame drum for upright playing position light weight, super portable but embellished with a pair of two stacked jingles.. Kind of like a ghaval but thinner and jingles instead of rings
About 520 grams (say 1 lb. 2.5oz). Great for moving/dancing and playing at the same time.
13.5″ Diameter x 2.25″ deep. Maple shell with outer flitch of walnut. REMO Renaissance drumhead, Gentle arch.
one with small silver jingles.
$330.00
(2) 12″ SlapBack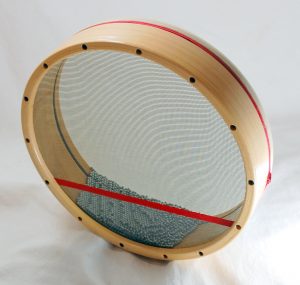 A smaller (12″ diameter x 3″ deep version of our leading-edge SlapBack99 (16″ diameter). This drum wildly innovative drum and easy to handle.  The thicker shell makes it surprisingly stable given its small diameter.  We've experimented by building three three of these.
$300.00 plus shipping
(3) Green Goddess: A "Mill Manifestation"
Endorser Marla Leigh spends time in Vermont doing workshops and working on her Frame Drum Academy.  This smaller version (14″ diameter) of her signature Artist Innovation Series tar drum sprung to being inspired by a picture of Marla playing her drum in our Vermont woodlands.
With the same general specs as the AIS Marla Tar, this smaller version is remarkable light and portable – excellent for hiking in the woods with Marla…
$310.00 plus shipping