Special Offers – Frame Drums & Tambourines
From time to time we are inspired by conversations we've had with artists during the course of product development, or we prototype a design inspired by the comments we hear at festivals and workshops. Sometimes a particular piece of wood just speaks to us…Perhaps one of these will speak to you too…
Email us (info@cooperman.com) about the drum if you are interested in purchasing one, or visit our webstore page of specials:
http://www.coopermanstore.com/Specials-and-Manifestations-from-the-Mill-C127.aspx
(
1) 14″ ROSEWOOD Tar drum
 It is especially rare for us to make frame drums shells from Rosewood.  The especially hard rainforest wood shell gives this drum an exceptionally long sustain and a distinctively "true" tone.
It is noticeably heavier than a standard Cooperman drum of the same size – Rosewood 14″ =1080 grams (2 lbs 6 oz.) as compared to a Cooperman Cherry model = 792 grams (1 lb 12oz)
14″ Diameter x 4.25″ deep Rosewood shell with Ash liner
black cording
REMO Renaissance drumhead
price:        $400.00
(2) 14″ Bendir: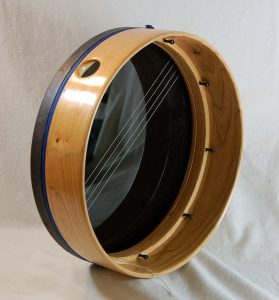 14″ Diameter x 4.125″ deep Cerry shell
REMO Ebony Suede drumghead
Bendir snares
Royal blue cording
PRICE:     $333.00
SPECIAL OFFER FREE SHIPPING
(3) 20″ Tar with Inlay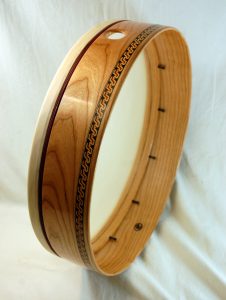 20″ Diameter x 4 3/4″ deep  Cherry shell with decorative inlay
REMO Renaissance drumhead
price – $398.00
special offer = $375.00
(4) 14″ Tar Drum, Emerald Green Sunburst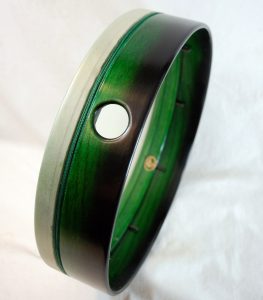 14″ diameter x 3.5″ deep cherry shell stained  sunburst Emerald Green
Green/black cord
with a thumbhole, REMO Renaissance drumhead
price;     $354.00
special   $330.00
(5) 18″ Frame Drum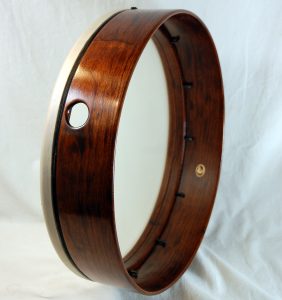 18″ x 4.75″ depth, Cherry shell stained medium-dark brown
REMO Renaissance tumhead
with hybrid, rolled bearing edge profile (Asheville Percussion Fest style).
price      $376.00
special   $350.00