Special Offers – Frame Drums & Tambourines
From time to time we have drums available that are not part of our "catalog" standard models.  They may be "one-off" drums that were built as prototypes, or drums built to model a custom design suggested by a customer.  Take a look and see if something here suits you.  Email us (info@cooperman.com) about the drum if you are interested in purchasing one, or visit our webstore page of specials:
http://www.coopermanstore.com/Specials-and-One-off-C111.aspx
1) Polychrome Artist Series Riq – Green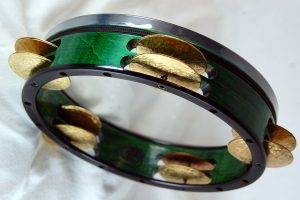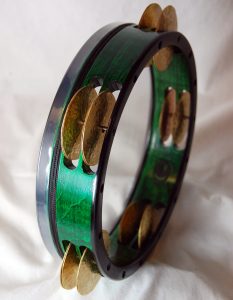 We made this riq for Todd Roach to use in his clinic at at Tamburi Mundi 2017, but he was unable to fit it into his carry-on.  Weatherking Clear head (scuffed), 9 pair hand hammered brass jingles, one pair hand hammered bronze (intended as the "played jingle"
This drum sells for $409.00
Special Offer: Free Shipping within Continental USA
http://www.coopermanstore.com/Green-Riq-P728.aspx
2) 16″ Tar – used / re-conditioned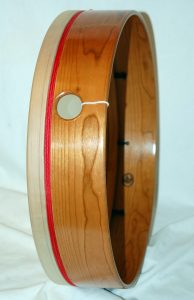 This drum was exchanged for a different diameter.
We cleaned it and mounted a new REMO Renaissance drumhead
16″ diameter, Cherry shell, tuneable
Price new= $308.00
reconditioned = $275.00
http://www.coopermanstore.com/16-Tar-reconditioned-P730.aspx