Inanna Tambourine: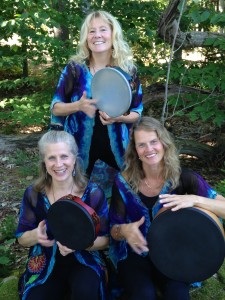 Our Inanna Tambourine is the fruition of a thoughtful collaboration between Inanna, Sisters in Rhythm, and Cooperman:  light in the hands, beautifully crafted, aesthetically pleasing, with a dynamic range. Three cut-out grips enable a great versatility in playing styles and reduce the overall weight of the drum. There are four sets of smaller copper jingles and one set of nickel jingles. The copper jingles are light in weight, and help give the drum its sweet, gentle sound. A slightly larger set of nickel jingles is intended to be the played (struck as opposed to shaken) jingle; the larger diameter of this jingle provides positive control and a brighter, crisper sound for playing jingle patterns.
All Cooperman drums are tuneable, allowing for a variety of musical choices: solo playing in tune with one's voice, harmonious ensemble pieces, and powerfully resonant ritual and ceremonial drumming. The choice of either suede or renaissance heads provides subtle and pleasing differences in the voice of this drum, with two color choices for the frames: deep red and teal.
Learn more about Inanna Sisters in Rhythm and their work at: http://www.inannasistersinrhythm.com/
your choice of REMO Renaissance or REMO EBONY drumhead.